Since 2011, the non-profit association "World Garden Mongolia" has been committed to the preservation and increase of forests and is thus actively involved in nature, environmental and climate protection. We are enthusiastic about nature and in particular about the functions of trees and forests. Among other things they possess the abilities:
Some of these services are also called "ecosystem-services" and are vital for human existence. Therefore, the non-profit association sees itself strongly oriented towards the common good or non-profit. Although the association World Garden Mongolia is aware that the objective – the establishment of the forest – or the provision of forests is a public good or  is a merit-based good (in the sense of the theory of Richard A. Musgrave) and thus the tasks of the Mongolian state are strongly affected, we see our work as a valuable support for the state sector and an increase in the ecological functions of the available natural area. We want to create forests in which every human being is free to live and enjoy nature. Whether by drinking fresh, clear, clean groundwater, breathing in the especially soothing forest air or moving between tremendous trees.
Our vision
World Garden Mongolia (WGM) has the vision of a world in which everyone takes responsibility for themselves and their natural resources (such as clean air to breathe, pure water to drink and intact soil for food production). 
"Everyone is therefore responsible for their own actions and their own (living) situation."
We do not point our finger at others (such as the government, private companies, …) and claim that this is your or their fault. We take our life into our own hands and work hard to improve it. By offering WGM – especially the preservation and increase of forests – it is easy for everyone to live up to this personal responsibility.
We want to create a world in which every person can make its contribution to an intact ecosystem.
Our mission
WGM measurably creates new trees and forests and thus preserves vital ecosystem-services. The participation of the local population and tourists ensures the long-term success of the projects.
Only 9.6% of Mongolia's territory is covered by forests. Our goal is therefore to increase the amount of forests in Mongolia by reforesting the tree trunk covered Bayanzurkh Khairkhan Mountain in Ulaanbaatar – a protected area near the Tuul River – and planting trees in the shape of five continents. This project is being implemented with the help of the Mongols and the international community.
As a result of the project, everyone will have their own tree. The family will be able to take care of these trees and plant trees for their children.
Our Team
Erdenechuluun Dulamjav (Дуламжавын Эрдэнэчулуун)
Function:  Founder and board of directors, Management of the association meetings, strategic decisions, association development, Treasurer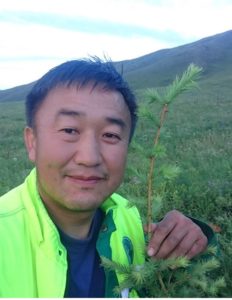 Before Erdenechuluun Dulamjav founded the WGM association in 2011, he worked as an employee in various medium-sized companies in Germany. From 2011 on, he will be dedicated exclusively to the management and the chairmanship of the association. Trees and forests are his passion, which he also pursues in the context of his binational way of life in both Germany and Mongolia. 
His Motto: "An easy man, not an easy target"
Manfred Vesper (Манфред Веспер)
Function: Consultant, expert in forestry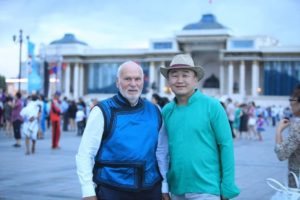 Manfred Vesper joined the World Garden Mongolia association from Germany through his professional background. He completed a forest training in Lower Saxony (Delligsen) and graduated by passing the forest ranger examination as Dipl.-Forst-Ing. Afterwards, he worked as a city forester at the Lübeck city forestry office, as manager of the Ritzerau depot and as manager of the Wesloe forestry office and the Wesloe timber yard. From 1991 onwards, annual stays with forestry and social activities as a short-term expert in Mongolia. The creation of numerous educational documents in Mongolian language, such as about 50 panels of the series "Trees and Shrubs of Mongolia" shaped his creative art. He also helped the bi-national partnership to develop a professional, cooperative and even friendly relationship by assisting Mongolian delegations in Germany. Manfred Vesper is a valuable member of the World Garden Mongolia Association and is available to the association with his professional expertise.
Khatanbaatar Dashbat (Дашбатын Хатанбаатар)
Function: Consultant for economic, technical, social and ecological contexts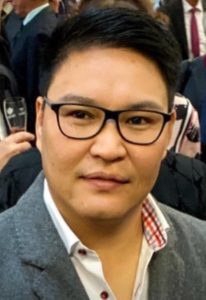 From 2004 to 2008, Mr. Khatanbaatar Dashbat graduated from the National University of Mongolia in Forestry. From 2008 to 2010, he worked as a forest engineer at the Research Centre for Forest Water Exploration of the Ministry of Nature, Environment and Tourism in Ulaan Bator. From 2011 onwards, he worked as a surveying engineer for Grand Forst LLC. Currently, Mr. Khatanbaatar Dashbatals is studying at the Institute of Forest Ecology of the Austrian School of Agriculture (BOKU) in a challenging master program. He supports the association World Garden Mongolia as a consultant for all economic, technical, social and ecological questions.
Tseren Tuvshinjargal (Түвшинжаргалын Цэрэн)
Function: Eventmanagement, Groupleading of the donors and sponsors, Comprehensive association activities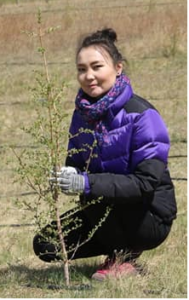 Tseren Tuvshinjargal has an academic educational background. She completed both her Bachelor's degree in Philosophy and Political Science at the Mongolian University of Education and her Master's degree in Public Administration at Zasagt Khan University with distinction. In addition to various further education courses that followed, she is actively involved in social work. For example, from 2018 to 2019, she was "Training and Development Officer" at Sky Resort LLC and is taking over the management of the NGO "Ongi River Movement", which is committed to restoring the water supply in the Ongi River – which supplies the Gobi region with water. In World Garden Mongolia she is the "good soul" and takes on all upcoming challenges conscientiously and carefully with enthusiasm and a lot of energy.
Bazarvaani Batmunkh (Базарваанийн Батмөнх)
Function: Organizer on site, Accompanying and explaining the project to visitor groups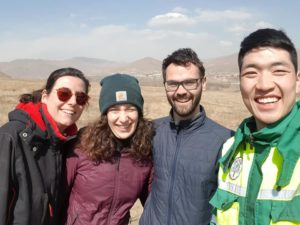 Bazarvaani Batmunkh studies mechanical engineering at the Technical University in Ulaan Bator. He also works for Green Drill LLC, a company that provides services for all types of earth drilling, for example, the planting of young trees or the correct fitting of fence posts. In World Garden Mongolia, Bazarvaani Batmunkh is responsible for organizing the reforestation activities on site at Bayanzurkh Mountain as well as presenting and explaining the reforestation project to groups of visitors.
Saranzul Bazarvaani (Саранзул Базарваань)
Function: Soliciting and fundraising, organizational association development
Saranzul Bazarvaani studied Industrial Management (B.Eng.) at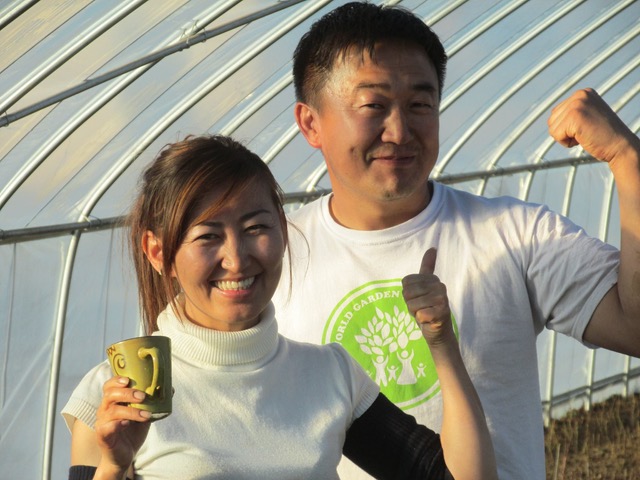 the IDER University of Applied Sciences in her home country of Ulaan Bator. Her professional career led her to the textile industry where she gained experience in sales, wholesale, import and export. For the World Garden Mongolia she is a valuable advisor regarding the organizational development of the association as well as the management of donations.
Munkhshatar Ganbold (Мөнхшатар Ганболд)
Function: provide and obtain technical consulting services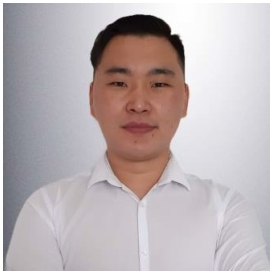 Munkhshatar Ganbold is currently studying Regenerative Energy Systems in the Master's program at the TU Berlin. His scientific and professional career has already led him to numerous renewable energy projects such as the realization of a 10 KWp photovoltaic solar plant in the district of Khanbogd, Umnugobi. Munkhshatar Ganbold helps the World Garden Mongolia with his technical knowledge about the use of renewable energies especially in connection with the operation of water pumps for irrigation purposes.