The "World Garden Mongolia" is a socially oriented reforestation project on the Bayanzurkh mountain on the eastern edge of the Mongolian capital Ulaanbaatar (see also google earth presentation or on google maps). The project was initiated by Erdenechuluun, who wants to point out the environmental problems in Mongolia and counteract them. In this way he wants to motivate his Mongolian fellow citizens to take action for the environment of their country. The founder of the association, Dulamjav Erdenechuluun, is married, studied at the Humboldt University in Berlin (Germany).
The holy mountain "Bayanzurkh" was almost completely forested with the naturally occurring tree species larch until 1989. In the course of the growth of the city of Ulaanbaatar and the increased use of resources it has been cleared. Heavy cattle drives and forest fires prevented natural reforestation. The boreal coniferous forests of Siberia extend over the northern parts of the country. The larch is the tree species that characterizes the landscape along with the pine, birch and poplar. Uncontrolled and illegal logging, especially in the vicinity of human settlements, is a major problem, which sometimes leads to timber shortages, desertification and disturbed water circulation. Only the forest in Mongolia is able to store precipitation (water) and provide it to humans and animals all year round via springs. The element of water is therefore a decisive factor for the success of the project, the natural balance, as an environmental medium and as a decisive component of the quality of life of the population.
The project wants to make the reforestation as close to nature as possible and has already obtained professional expert opinions and assessments on the feasibility of the project. The reforestation of the project area is initially intended as a pilot project to make society and politics aware of new reforestation methods. It should represent a small step towards increasing the forest area in Mongolia. As a result of this pilot or prototype reforestation area in shape of a stupa, the entire mountain "Bayanzurkh" is to be reforested by the targeted introduction of seedlings on the numerous stumps of dead and cleared trees that are still present. In doing so, the "World Garden Mongolia" wants to emphasize the social component and include Mongolians of all age groups in order to carry this challenge into society and to tackle it together. In addition, the "World Garden Mongolia" strives to strengthen the connection between Mongolians and all people of other nations through e.g. joint planting activities with tourists.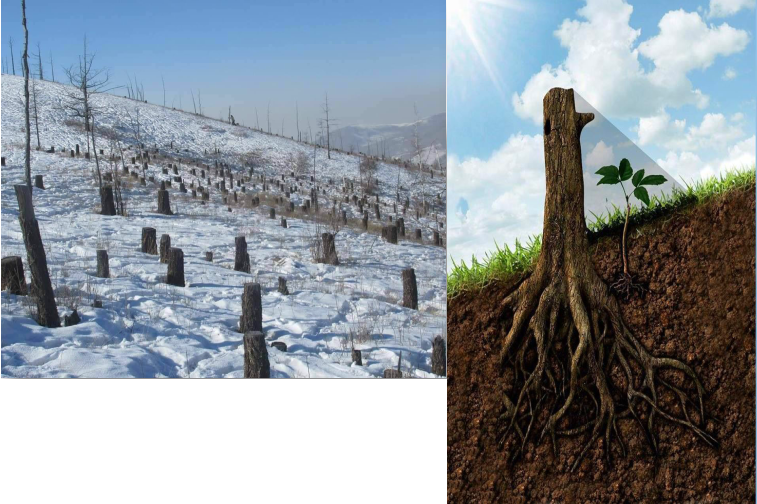 "We live together on this planet and want to preserve it together".
The project is financed exclusively and only by donations. After expert reports and pilot plantings, the first reforestation actions – in 2015 – have given people from all over the world the opportunity to become part of the project. The donations and tree sponsorships are documented transparently for everyone in the project's register of donations.
For an overview of our current activities, please visit our Facebook pages.